National University prepares students to become first-contact, primary care physicians fully qualified to diagnose, treat, and manage a wide range of conditions. We believe a superior education starts with an evidence-based, broad-scope curriculum emphasizing integrative medicine.
National University offers a comprehensive classical curriculum in traditional naturopathic medicine while preparing you to become a first-contact, primary-care doctor. You'll be uniquely prepared for the real world of health care today through learning in our integrative medicine environment. You'll graduate with the skill and confidence you need to not only practice, but to succeed and excel as a naturopathic physician.
The Doctor of Acupuncture (DAc) program can be completed in 8 trimesters. The DAc offers a comprehensive curriculum in acupuncture coupled with training in how to balance an Eastern medicine approach with Western medicine. The DAc program focuses on treating the whole person for improved patient outcomes.
National University of Health Sciences offers a six-trimester program leading to the master of acupuncture degree (MAc). This degree will allow the graduate to take national board exams and achieve certification in most states to practice as a licensed acupuncturist.
National University's bachelor's degree completion program in biomedical science offers you the top quality of a private education at an affordable price. Students experience our graduate level faculty and are provided the opportunity to continue into any of our first professional programs.
Post Professional Degrees
The Doctor of Acupuncture completion program (DAc-C) is now available to those who have completed a masters degree in Acupuncture or Oriental Medicine. The DAc-C program can be completed in three terms or one full year of study.
The Master of Science in Advanced Clinical Practice (MSACP) is an advanced degree designed for first-professional health care providers including, DCs, NDs, MDs, and DOs. Offered exclusively online, the program provides an in-depth immersion into integrative medicine with outstanding faculty active in the profession.
The Master of Science in Diagnostic Imaging degree is limited to one participant per year and can only be received upon completion of the three-year, full-time residency in diagnostic imaging at National University.
Founded in 1906, National University of Health Sciences is a leader in the growing field of integrative medicine and is respected worldwide for success in balancing healing arts and science, combining broad-scope integrative medicine with patient-centered care.
With campus sites in both Illinois and Florida, NUHS is forging new paths within the world of health care, based on understanding and cooperation with medical professionals from all disciplines.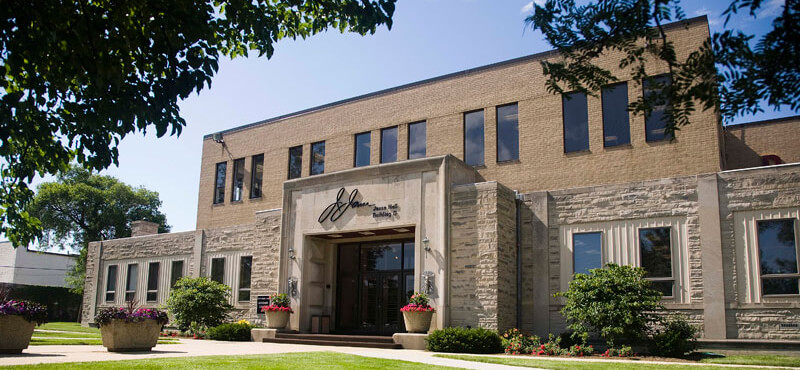 National University sets the standard in training for careers in health care and provides a dynamic atmosphere where students, faculty and clinicians of various complementary and alternative health professions work together in an integrative environment.
National University is an established champion of research, high admission standards, accreditation, and academic excellence for its professions.
National University offers several programs, including: doctor of chiropractic medicine, doctor of naturopathic medicine, and master of science in both acupuncture and oriental medicine. An associate degree and certificate in massage therapy and a bachelor's degree completion program in biomedical sciences are also offered. Postprofessional master's degree programs are offered in clinical practice and diagnostic imaging.
For more than a century, we have influenced the way health care is perceived, taught and practiced – and each year we continue moving the profession forward.
Free Guides
Find free informative guides to financing your graduate degree, the many exciting complementary and alternative medicine career options, and much more in the Integrative Health Resource Library.
NUHS News
Discover the latest campus news and updates from National University of Health Sciences. Find out more about what our faculty and alumni have been up to, their work and contribution to their fields. 
BLOGS
Discover the latest insights from the field of integrative health, tips on pursuing a career in complementary and alternative medicine, and real stories from students who know what it takes to be successful.
Defining the future of integrated health care