DC Clinical Opportunities
Each DC student serves a full-year clinical internship that is designed to provide interns with the kind of challenging, real-world experience that is key to their future professional success.
NUHS offers many exciting internship options that give you the experience and confidence you need to prepare for your future as a physician.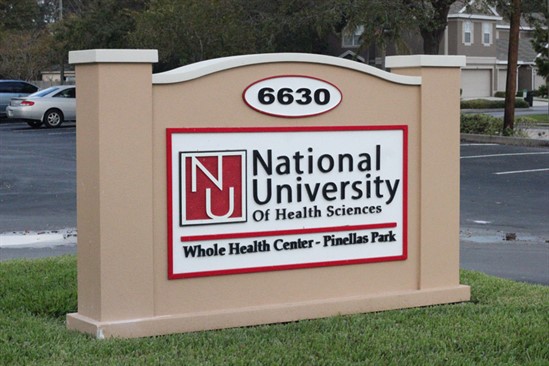 NUHS Clinics
At National's clinics, you'll learn first-hand how to practice chiropractic as primary care medicine under clinical supervision. You'll have access to professionals from other specialties, our residents and faculty clinicians, as well as have use of our diagnostic imaging and MRI equipment.
Illinois
on-campus NUHS Whole Health Center – Lombard
Florida
NUHS Whole Health Center – SPC (serving St. Petersburg College students, faculty, and staff)
NUHS Whole Health Center – Pinellas Park
NUHS Preceptorship Program
Some students elect to complete part of their internship experience through National's Preceptorship Program. This program offers students the opportunity to gain valuable clinical experience in a private practice setting under the supervision of approved doctors who are experienced, ethical, and successful physicians. The supervising doctors participating in this program are considered adjunct faculty of NUHS.
NUHS also offers the chance for select students in the Doctor of Chiropractic program to participate in exciting hospital internship experiences.
Current hospital rotations and preceptorships for DC students include:
Align Modern Health, Chicago, IL and suburban locations
Bay Pines VA Healthcare System, Cape Corral, Florida
Bay Pines VA Healthcare System, St. Petersburg, Florida
Fargo VA Health Care System, Fargo, North Dakota
Fayetteville NC VA Coastal health Care System, Fayetteville, North Carolina
John Dingell VA Medical Center, Detroit, Michigan
Medical College of Wisconsin, Madison, Wisconsin
Medical College of Wisconsin, Milwaukee, Wisconsin
Richard L. Roudebush VA Medical Center, Indianapolis, Indiana
Scott Air Force Base, Illinois
University of Western States, Portland, Oregon
VA Ann Arbor Healthcare System, Ann Arbor, Michigan
Outreach Events
Each NUHS intern participates in community service work that can include rewarding outreach in local sports, charitable and educational events. At NUHS, we're not just training superior physicians, we're training community leaders and giving back to the communities we serve.
Research
Our commitment to research is demonstrated by our journals, our extensive current research, and the number of student research opportunities available. You'll find evidence-based practice is an important part of each phase in our curriculum.
As a student, Nate wrote a research article on sports-related concussions that was later published in the Journal of Chiropractic Medicine after he graduated. He had originally given a presentation on the research at the 2012 Chiropractic Sports Symposium.