Learn About the National University of Health Sciences
Discover how NUHS can help you pursue your dream in complementary and alternative medicine.
Why NUHS?
We've been offering degrees in natural health care since 1906. We've trained thousands of successful physicians and health care practitioners and we have the knowledge and expertise to train you.
High admission standards and rigorous programs mean you can be proud to be a student here, and more importantly, confident in your ability to work and practice after graduation.
We believe in bringing together practitioners from a broad range of medical specialties for the benefit of patients and the health care industry. Because we train you in an integrative learning environment, you'll be prepared for the future of integrated health care.
Confidence in our history. Confident in your future.
We're proud of milestones that make us leaders. Beginning in the late 1920s we offered degrees that were the forbearer to naturopathic medicine. We taught acupuncture before President Nixon's historic trip to the Republic of China brought attention to this ancient discipline. We were the first chiropractic training institution to open a training and assessment center and to receive licensure approval from every chiropractic board in the country.
Milestones like these illustrate that we are a school defined by leadership, innovation and vision. For more than a century, we have influenced the way healthcare is perceived, taught and practiced, and each year we continue moving the profession forward.
Yes, our history matters. It is proof that we truly understand integrative healthcare, and that we know what it takes to help you achieve a lifetime of career success.
Meet NUHS' Staff and Faculty
The best learning environment starts with the best faculty. At National University, 98 percent of our faculty members have the highest degree in their field, whether that means a PhD, MD, DC, or ND.
National University boasts a faculty roster of dynamic scholars in natural health, research, and science. Your professors have a wealth of experience in private practice, integrative medicine, business management, scholarly publication, and leadership positions in their professions.
Subscribe to NUHS Blogs
Discover the latest insights from the field of integrative health, tips on pursuing a career in complementary and alternative medicine, and real stories from students who know what it takes to be successful.
"National University is unique. It's more than our commitment to integrative medicine, or our focus on evidence-based care. It's about how we train our students to stay at the forefront of today's health care landscape and meet the demands of the future." 
– President Joseph P.D. Stiefel
Learn More About NUHS' Academic Programs for Integrated Health
The academic programs at NUHS blend classroom and practical, hands-on lessons to give students a strong foundation in health sciences so they can be better prepared for their future careers. Learn more about our different programs:
Undergraduate and Prerequisite Programs
Graduate Programs
NUHS' Graduate Programs have a strong commitment to excellence, with high admissions standards, unparalleled faculty, hands-on curricula, and an emphasis on integrative medicine.
These graduate programs include:
Doctor of Chiropractic
Get the preparation you need to practice as a primary care, first-contact physician while embracing the whole health picture for your patients.
Doctor of Naturopathic Medicine
Study the same basic sciences as a Medical Doctor (MD) while learning holistic and natural approaches to therapy that focus on illness prevention.
Doctor of Acupuncture
The DAc program prepares students to prescribe therapies such as acupuncture needling, moxibustion, cupping, herbal medicine, and more.
Master of Acupuncture
Our MAc program provides a solid foundation in Western Medicine and how to integrate it with acupuncture for a holistic treatment regimen.
Undergraduate and Prerequisite Programs
Our Undergraduate and Prerequisite Programs provide innovative and interactive learning experiences designed to prepare you for a career in health science.
Bachelor of Science in Biomedical Science
Prepare yourself for a variety of advanced degrees and careers in health science with our Bachelor of Science program!
Prerequisite Program
Earn the prerequisite science credits you need to pursue your graduate or professional degree!
Postprofessional & Residency Programs
Our postprofessional degree programs and residency programs provide the advanced skills you need for success as a health care provider:
Doctor of Acupuncture Completion
Available to those who have completed a master's degree in Acupuncture or Oriental Medicine. Can be completed in three terms or one full year of study.
Master of Science in Advanced Clinical Practice
Our online Master's program for Advanced Clinical Practice provides DCs, NDs, MDs, and DOs in-depth immersion into integrative medicine.
Master of Science in Diagnostic Imaging
This exclusive postprofessional program is exclusively available to those who have completed our three-year, full-time residency in diagnostic imaging.
Residency Programs
Get hands-on experience with NUHS' residency programs and learn the realities of operating a health care practice and prepare for the future.
Learn How to Finance Your Degree – Download our free Guide!
Learn about the various fields within complementary and alternative medicine, career outlook and opportunities, tips for filling out the FAFSA, and much more!
Academic Facilities
NUHS' campus boasts numerous academic and student facilities, including:
James F. Winterstein Library
With over 12,000 book titles and access to more than 175,000 electronic journals, the library has the resources you need to master the challenges of learning chiropractic, naturopathic, acupuncture, herbal, and biomedical sciences.
Gross Anatomy Lab
The NUHS Gross Anatomy Lab offers the same features found in top caliber medical school labs across the country. Emphasis on hands-on human dissection for anatomy training has always been a hallmark of our curricula, which is why students in all programs learn anatomy in this clean and modern facility.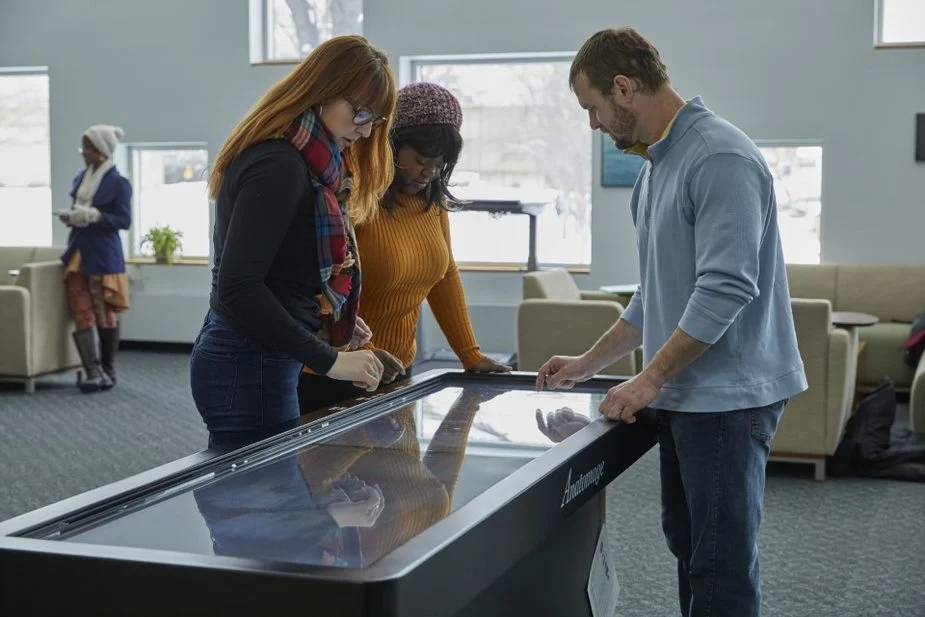 The Anatomage Table
In addition to hands-on dissection, NUHS offers its students, faculty and clinicians access to The Anatomage Table, today's most technologically advanced digital visualization system for anatomy education.
Biochemistry Lab
In addition to hands-on dissection, NUHS offers its students, faculty and clinicians access to The Anatomage Table, today's most technologically advanced digital visualization system for anatomy education.
Whole Health Centers
Onsite clinics in Lombard, IL and Pinellas Park, FL where students can get real world experience practicing with our internship program. Students have access to professionals from other specialties, our residents and faculty clinicians, as well as have use of our diagnostic imaging and MRI equipment.
Training and Assessment Center (TAC)
Newly digitized with remote cameras, speakers and intercoms, the electronic renovations of our training and assessment center allows digital capture of live interactions between students and standardized patients.
Herbal Dispensary
The on-campus integrative medical clinic at Nation University in Lombard, Illinois boasts an extensive herbal and supplement dispensary used by interns and clinicians in our acupuncture, Chinese herbal medicine, chiropractic and naturopathic medicine programs.
Botanical Gardens
The Botanical Garden at our Lombard, Illinois campus boasts over 60 different botanicals, each with valuable applications in botanical medicine. In spring, summer, and fall National University students can visit the garden to plant, see, smell, and touch the actual plants. The garden is maintained by National University's naturopathic medicine students under the guidance of naturopathic medicine faculty.
Fast Facts
Curious about NUHS and the field of complementary and alternative health care? Here are a few Fast Facts for you:
6 to 1
Student-to-faculty ratio
Approximately 90%
NUHS students receiving
some form of financial aid
Approximately 16% NUHS
students live in one of 4
Residence Halls
4 in 10 Americans Use
Complementary Medicine
Treatments
8 out of Top 10 Jobs are
healthcare jobs according to
U.S. News & World Report.
People who graduate with a
STEM bachelor's degree earn $500,000 more in their
lifetime than non-STEM majors.
Health diagnosing and treating
practitioners earn a median
salary of $74,530,
according to the Bureau of
Labor Statistics.
$90,475 average salary 
for Doctors of Chiropractic.
$160,200 average salary 
for DCs in integrated setting.
67% of ND physicians
own or co-own a practice
Job market for ND
physicians is expected to
grow 11% between 2018 and 2028.
$95,642 average annual
salary for ND Physicians in
US.
Acupuncturists report 74%
job satisfaction.
$89,600 average mean
annual wage for diagnosing
and treating acupuncture
practitioners.
Acupuncture job market is
expected to grow 13.3% 
between 2016 and 2026.
Get to Know NUHS through Our Virtual & On-Campus Visits
Imagine Your Life at National University of Health Sciences
Are you ready for the student life at NUHS?
Get to know what it's like to be a student at one of our campus locations:
Campus Life
We work hard to make our campus into a welcoming new home for you. From new student orientation, to housing services, clubs, campus security, and health services, NUHS strives to provide a safe, secure, and healthy lifestyle for our students!
Support Services
To ensure that you're fully prepared for the real world of health care science, we keep our educational programs academically challenging. Support services such as our academic assistance and disability program can help you meet the challenge of an NUHS education.
Student Center
The Student Center at our Lombard, Illinois campus offers two auditorium-style classrooms, a gymnasium, and stage to provide students with both academically and socially-enriching experiences. The gym is stocked with state-of-the-art elliptical trainers, recumbent and upright bikes, stair climbers, and more to promote physical fitness.
Clubs and Organizations
Make the most out of your time with NUHS by joining one of our professional, leadership, sports, fitness, community interest, or professional clubs and organizations. Build connections and add to your future resume!
Residence Halls
NUHS in Lombard, Illinois offers students living on-campus a variety of apartment types to meet different budgets and preferences. From 1- and 2- bedroom apartments to studio and "efficiency" living areas, there's something for everyone at NUHS.
Campus Store
From course supplies and textbooks to beverages and snacks, the NUHS Campus Store in Lombard, Illinois has everything you need to get through a study session—including a welcoming area where you can study or hang out with your classmates.
Illinois Campus
Enjoy the peacefulness of our 35-acre campus in the suburban village of Lombard. Everything you need is nearby or on campus, including housing. Or, experience the excitement of Chicago, located only 15 miles away. You can be in the city quickly and take in all the sports and entertainment it has to offer.
Florida Campus
Soak up the sun and all the wonderful amenities of our program in St. Petersburg. Take advantage of low student-to-teacher ratio and our special focus on the chiropractic program. A short commute to Tampa puts this beautiful Gulf Coast city within easy reach.
Become a Part of the Future of Integrated Health Care at NUHS!
Learn more about the admissions process at National University of Health Sciences:
How to Apply to NUHS
NUHS has a variety of different degree programs to help you find your dream health care career. You can discover more information and how to apply for a specific program that interests you by clicking the link below:
Tuition & Costs
Wondering how much tuition and other costs at NUHS will be? The cost of tuition varies by program. Discover cost estimates for each program at the link below:
Financial Aid & Scholarships
Our Office of Financial Aid understands the challenges you face in financing your education—and has the information and tools to help! NUHS' goal is to make the financial aid process as easy as possible to eliminate the financial barriers between you and your health care education!
From government-run student loan programs to special scholarships, NUHS can help you find the best way to fund your education.
Learn more about scholarships, financing your degree and future career opportunities with our Guide to Financing a CAM Degree.