Facilities
National University prides itself on providing a campus that helps student excel. Our facilities include:
Gross Anatomy Lab
The NUHS Gross Anatomy Lab offers the same features found in top caliber medical school labs across the country. Emphasis on hands-on human dissection for anatomy training has always been a hallmark of our curricula, which is why students in all programs learn anatomy in this clean and modern facility.
Anatomage Table
Building on the foundation of strong basic sciences and hands-on learning in all of its programs, National University offers its students The Anatomage Table. This life-size 3D interactive table is today's most technologically advanced digital visualization system for anatomy education. 
Biochemistry Lab
Student lab tables feature movable tabletops that rise and fall to accommodate different working heights and also include network connections for computers. The teaching station also has a ceiling-mounted camera over the teaching area which allows for big-screen projection of lab demonstrations.
Herbal Dispensary
Large and well-stocked herbal dispensary where students learn how to correctly choose and prepare botanical medicines, homeopathic remedies, physician-grade vitamins, whole food supplements, probiotics, and more.
Botanical Garden
Garden where students themselves plan and care for a variety of herbs and plants in order to better understand their medicinal and therapeutic properties.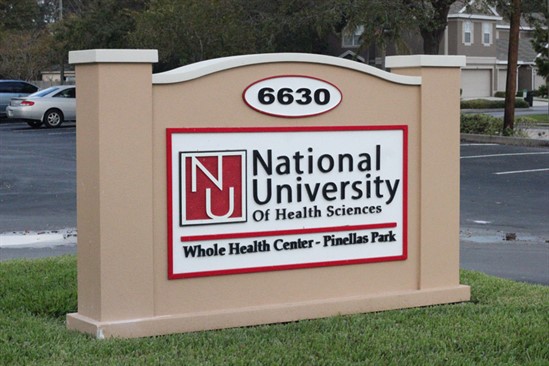 On-campus Whole Health Center clinic provides students the opportunity to work collaboratively with other health care students and practitioners in this integrative setting.
Hydrotherapy Suite
State-of-the-art hydrotherapy suite where students treat patients using the therapeutic benefits of water.
Training and Assessment Center
Through the use of the standardized patient program and digital recording technology, students are able to learn, practice, and be assessed on their diagnosis and patient interaction skills.
A comprehensive James F. Winterstein Library, one of the largest medical libraries in the area, that houses a huge collection of books, print and electronic journals, ebooks, bibliographic databases, and more.